Here at FreshDry, when we clean tile & grout, we take great care to make sure it is cleaned thoroughly and correctly the first time.
Our Riverside tile and grout cleaning services offer the most in-depth and thorough cleanings around. We use high-pressure water extraction to blast away grime and stains from porous surfaces, which helps prevent future buildup of bacteria and mold. We can also recolor the grout any color your mind can come up with. Sealer can be applied as well as a sanitizer to kill any bacteria on or in the grout. We also offer this service on showers & counter tops.
We use the SX-15 tile grout cleaning tool, the leader in tile & grout cleaning equipment. It blasts dirt away from tile & grout at an amazing 1500 PSI. When that is combined with a high pressure vacuum, all dirt and grime is effectively removed – leaving your tile & grout completely restored.
5-STAR RATED TILE & GROUT CLEANING COMPANY


The equipment that is used is amazing. The equipment, along with Robert's expertise, delivered a fantastic cleaning job on my carpets.

He called ahead before he arrived to let me know he was ready to head to my home. He explained the cleaning process and made sure he treated my home as if it were his own.

It's hard to find a company you can trust. Bob provided excellent service. I'm definitely using FreshDry again.
How to Calculate Square Footage & Pricing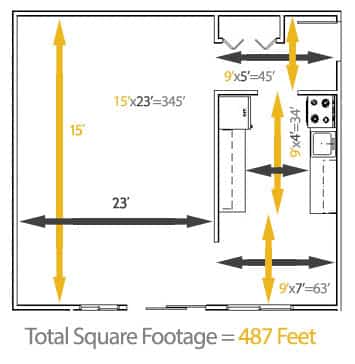 The price for our travertine tile and grout cleaning is only $0.65 per square foot. To calculate the square footage for the tile in your home, simply measure the length and width of each room to be cleaned. If your tile flows into multiple rooms, simply break the measurements into manageable boxes (as seen in the diagram) and add them together.
Now, to calculate the price, multiply the total square footage by $0.65. In our example, 487 square feet would be priced at only $316.55.
Schedule service today!
FreshDry's friendly technicians are available in Riverside, San Bernardino, and Orange County and are ready to serve you as soon as today.